If you're confused what are keywords in SEO (search engine optimization) then this article is for you. Let's just start with:
What are Keywords?
Keywords in SEO are terms and phrases which we type in GOOGLE to search for something for example: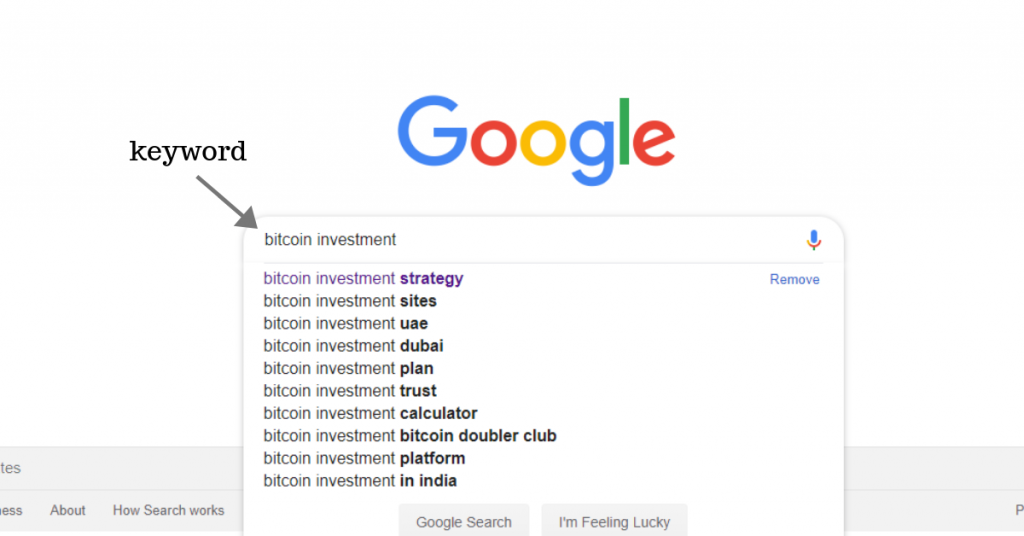 So you see in the photo "bitcoin investment" is the keyword which a random user is searching and if you want to rank your website for this keyword, you have to include this keyword in your website content.
By adding keywords in our website, we give search engines a single of what type of content this is and what we're targeting.
Types of Keywords:
Short Keyword: These keywords are no more than 2 to 3 word .i.e: "bitcoin investment" and these short terms are difficult to rank in Google because of its high competition.
Long-Tail: The keyword which is more than 3 words are called long-tail keywords .i.e: "how to invest in bitcoin without loss" as you see in the example long-tail keywords are almost a sentence.
An interesting thing about long-tail keyword is, you can easily rank your website in SERP (search engine result page)
Keyword Research Tool Free
Before creating content you have to research for the keyword that you'll include in your content afterward.
All you have to discover in the keyword research tool is new keyword ideas, keyword monthly traffic, and competition.
You can use these tools:
Both of these tools are free!
Keyword Prominence
This is the main part where you'll implement all your discovered keyword in the page content. Keyword prominences are the position and places where an SEO analyst include keywords.
Places are:
Meta Title & Description
Heading tag [H1, H2 & H3]
Article's first & last paragraph
Permalink (URL of the article)
Image Alt Tag
After adding your keywords to these places, your article is reading to be an index on the focused keyword.
Tip: You can include two similar keywords in your content to get more traffic from search engine just make one primary keyword and the other as a secondary keyword.
Wrap Up!
Just follow this guide and just wait for your keyword ranking in Google and if you don't see any result with-in 2 weeks, please check with other SEO On-page factors, you probably be missing any of them.